---
The ScreenLine® SL20-22F Touch system is a functional and aesthetical restyling
of the "F" battery-operated motorised system.
For 20 and 22 mm cavity, in venetian and pleated versions
22-mm cavity: warm edge spacer bar will be supplied as standard with orders issued from 2nd May 2013
Small sized battery module, developed in co-operation with design specialists
Touch control keys
Possibility of use with both external and internal motor and automatic detection of motorised system
Possibility of software updates
Radio receiver available as option, also as retrofit solution
Radio remote control available as option
Batteries recharged by means of a micro-USB connector
Batteries can be easily replaced
Components and accessories:
SL2380 Battery Module – available in colours grey S155 (standard), white S102 and anthracite grey S159
SL2380R Battery Module with a built-in radio receiver
SL1084 Solar Panel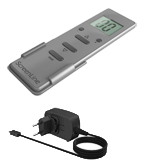 SL2392 Radio remote control transmitter
SL2405 Battery charger
Pellini SpA has developed a magnetic transmission device that allows use of ScreenLine® cord operated blinds in the outer cavity in case of triple grazing units.
The options available are:
SL2364 for 10-mm cavity
SL2365 for 12-mm cavity
SL2366 for 14-mm cavity
SL2367 for 16-mm cavity
SL2387 for 20-mm cavity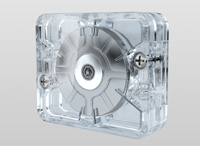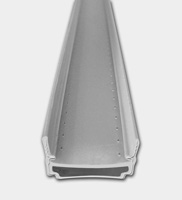 From 1st March 2013
ScreenLine® models:

SL22C venetian
SL22C pleated
SL22S pleated

are manufactured and supplied incorporating the new warm edge spacer bar
as standard profile and without any price surcharge

The warm edge spacer bar, made of stainless steel co-extruded with polypropylene and designed in co-operation with TGI, is able to further enhance the benefits of ScreenLine® systems in terms of energy saving, whilst ensuring a perfect hermetic seal:
it improves the thermal insulation of the profile due to its low thermal conductivity
it ensures a low Psi value (halving heat transmission through the perimeter compared to a standard aluminium spacer bar)
it allows a better Thermal transmittance value of the window, irrespective of the material used for the frame
A Decree by the Italian Government alotting subsidies (as high as 40% of costs) to those who install sun shading devices has been published.
Read the Decree
V95 is the new slat developed by Pellini SpA for ScreenLine® integrated venetian blinds. The product is the result of co-operation with major European research institutes on nanotechnology, which is aimed at developing a slat that might allow the application of integrated blinds on structural façades without any concern for glass overheating.
The slat is coated with an interference filter that is designed to reflect the most critical solar radiation; the coating also results in low emissivity slat, thus affecting the long wave infra-red radiation characteristics.
The benefits deriving from use of such product are the decrease in glass temperature and g value (lower than 10%) and the considerable reduction of Ug value compared to a standard DGU, as certified by a primary German independent institute.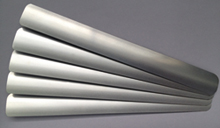 The installation of about 400 ScreenLine blinds for the "Parallelo" building in Milan, has been completed.
Case History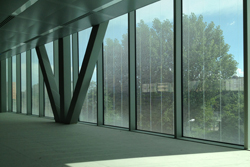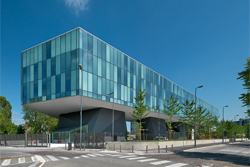 The new feasibility charts for ScreenLine® systems SL20-22C and SL27-32C are now available.
Significant updating has been introduced in both content – with the increase in the feasible dimensions of blinds and of glass thickness – and form – with a new and simplified graphic outlook.
The new external motor SL2190 can be readily and easily applied to all frontal magnetic transmission ScreenLine® systems, and can be retro-fitted to existing "C" systems. It allows venetian blinds to be raised/lowered or tilted and pleated or roller blinds to be raised or lowered.
It is small and extremely silent due to the use of direct drive technology without brushes and reducer.
It is equipped with an infra-red receiver (or radio when coupled with control unit SL1963) and can therefore be activated via remote radio control; the dedicated software also allows remote updating (management control). Centralized configuration of more than one blind, i.e. group control, is also feasible.
The external electrical accessories are the same as the ScreenLine® internal motorised "M" series (24V DC).
SL2190 also enables users to manufacture and operate large-size integral blinds with internal glass thickness measuring up to 13 mm in thickness.

• Applicable to all "C" systems
• Can be retro-fitted
• Small size
• Extremely silent
• Remote radio control facility
• Remote management of software
• Compatible with same accessories as "M" systems'
• Wide feasibility range
• Centralised configuration of several blinds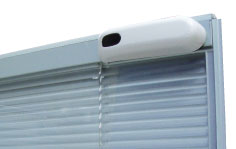 The new ONE-POLE MAGNETIC CONTACTS (code SL2187) are now available for ScreenLine® internal and external motorised blinds.
Each magnetic contact features a connection for one wire only (one-pole contact): therefore in order to operate the blind, 2 contacts will be necessary, which can be placed in the most suitable area of the frame profiles at your discretion.
Having only one fixed wire per contact avoids the risk of damage to the wire; in the previous version, some problems arose from the continuous stress related to wire movement. The possible problem of short-circuit is avoided, as the plastic parts, located away from each other, will never come into direct contact.

The part of the one-pole contact that is installed on the opening section of the window frame is the one equipped with a piston, which is attracted to the magnetic field that is generated with the other part, which is located on the window frame surround. The wide diameter (13 mm) of the fixed magnet, by having a greater contact area, ensures good electrical contact and, consequently, power to the blind motor, even if the window sections are not perfectly aligned. Fig. 1
Fitting is simple and quick, even when the window has already been mounted, and can be carried out by drilling a 12-mm hole for location of the contact and wiring. A 2.5-mm self-tapping screw is used for fixing purposes. Fig. 2
If you require replacement of the old version of electrical contacts (SL1169) with the new one-pole system (SL2187) for existing ScreenLine® blinds, the use of the special plates as suggested in Fig. 3 is recommended.
The new electrical contacts can be installed on all types of window frames and are particularly suited for lift & slide doors.
Serial connections of several contacts are not possible.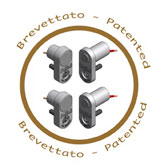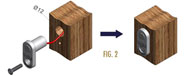 The installation of about 21,000 ScreenLine blinds at the Tancredo Neves Administrative City, Brazil, has been completed.
Case History