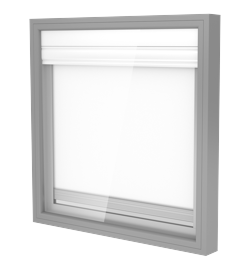 The ScreenLine® blind SL27M roller with motor inside the head rail for incorporation within a
insulating glass is manufactured in accordance with high technical specifications and production standards.
The blind raising / lowering functions, are achieved by way of an encoder motor that permits a constant speed resulting in a guaranteed synchronized function for multiple blinds.
Special software determines the setting of blinds end stops, by a process of self-learning. The
motor has two speeds. The blind slows before reaching the top and bottom limits in order to avoid
excessive stress on the fabrics and to guarantee a longer life to the components and a faster
speed for raising and lowering. The motor and the entire electronic blind management system are positioned within the head rail, on a specially designed slide incorporating a shock absorber system to reduce any vibration and significantly reducing any "noise" effect. The slide is also equipped with a specially integrated electric socket with a snap-in connector to the spacer bar allowing connection to the external power supply, thereby maintaining a complete hermetic seal to the unit. The electric system incorporates a polarity inverter allowing the raise and lower function of all the connected blinds to be fully synchronized using only two wires.
A mechanical end-stop incorporated within the head-rail, ensures a safety stop of the blind in the extreme positions. The bottom rail and the fabric slide inside appropriate side guides to avoid light transmission down the sides. Two pelmets, fixed to the head rail, ensure the correct unfolding of the fabrics and a total closure of the upper profile. The entire kit is contained within the spacer bar frame, thereby ensuring a complete hermetic seal of the unit.
| | | |
| --- | --- | --- |
| Products | Code | Description |
| | SL1818 | "M" (UPPER PROFILE) open spacer bar 20 mm |
| | SL1819 | "M" (UPPER PROFILE) open spacer bar 22 mm |
| | SL1715 | "M" (UPPER PROFILE) open spacer bar 27 mm |
| | SL1807 | "M" control unit |
| | SL1963 | "M" control unit with integrated radio receiver |
| | SL1965S102 | 99-channel radio remote control White |
| | SL1965 | 99-channel radio remote control Grey |
| | SL1965B160 | 99-channel radio remote control Black |
| | SL1984 | Power supplier for up to 2 blinds + integrated control unit |
| | SL1985 | "M" test kit |
| | SL2188 | "M" system power supplier for DIN bar |
| | SL2187 | Package consiting of two couples one pole for magnetic contacts Grey |
| | SL2187S102 | Package consiting of two couples one pole for magnetic contacts White |
| | SL2187B160 | Package consiting of two couples one pole for magnetic contacts Black |